"Hi Kay ,
just want to let you know what a great time I've been having on my holiday with my much more experienced and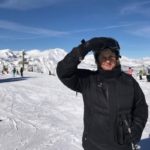 proficient husband and teenage sons, and how calm and in control I feel after doing my refresher course. It's made such a huge difference to my skiing. Have been letting my skis point down the hill and trusting them to turn and do all the work. I'm happily tackling steeper runs, and even inadvertently went onto a black run yesterday. I was skiing with some very experienced skiers who live here so felt a little pressured but also that I was in good hands. I took a deep breath at the top and breathed my way down no problems Of course it helped that the run was wide and beautifully groomed but it was steeper than I would ordinarily have attempted so I'm giving myself the credit! Thank you so much for being there with me in spirit "
Karyn
"Hi Kay,
Just wanted to let you know that I am feeling much much better about skiing!!!  Your techniques are making a big difference.
I was previously only on green runs after having done blues maybe 10 yrs ago with much trepidation.  I had a coach twice last week, and she skied behind me. Between that and doing your program I was much more comfortable.  I was able to ski blues myself and felt happy during most of it.  The steeper stuff was a little frightening but surmountable.  I think the positive thoughts in my head are all the difference.  My "day job" is a ob/gyne and I can tell you that this program also changes the inner dialog I have with myself during emergency situations in my job.  That has significantly decreased my stress.  What a great "side effect"!
I will continue to do your program.  I think for the person motivated to make change it is just the thing that is needed!
Thanks!"
Carla Carpenter
"Hi Kay,
Hope you like the photo of my very smiley, happy face on my first day skiing after completing your Ski With Confidence Course. My husband reckons I haven't Skied this well for years. There was a lot of " one and two and ", lots of sin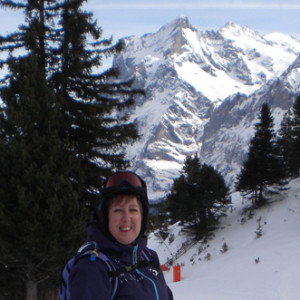 ging and I played my ipod on the way up on the lift and found that I was very relaxed. The gremlin inside my head has finally shut up!!!, peace and calm ensued – bliss.
I told my husband that Kay would be coming with us on this holiday and I could hear you talking to me, it was great. I feel such a sense of acheivement, thank you for all your help. I really like the relaxation recording and it has been a huge help to me. I am looking forward to the rest of my holiday.
Thanks again,"
(Update from) Elaine
I had to send you a quick email! I sing….Elvis….love me tender….the steeper the hill the louder I get!  And it's working!  I am relaxing enough to feel
my body and my feet and skis….and actually having fun!  Thank you….I am feeling that skiing is just the beginning of changes.
I would be honored to be on your site Kay, especially if it reaches people like it did me. You have an amazing calling.  I'll keep you posted on my progress!
Grateful in New York!!!!
Sandra Felger
Just thought I'd drop you a line to say that I read your skiing with confidence book and used the relaxation download prior to going on holiday to Andorra.  I also read the book while I was away and also used the relaxation download both morning and night whilst away.
I had a week of really mixed emotions – I hadn't been skiing for 10 years and was nervous then and nervous this time also.  Well I say nervous I should say frightened!
On our penultimate day I ski'd with my Father and Mother in Law and he was brilliant – I followed him and turned when he turned etc and really enjoyed it and was so happy.  I truly believe that your words did work in the end and I really want to thank you for the book and the relaxation download.
On our last day we all went up the mountain together but it was a little icy so everyone apart from my husband decided to not chance it – I thought I would have a go on the nursery slope – it was icy and very bumpy where the piste basher had done its bashing!!  Everyone waited for me and I had a second go just to make sure – I then decided to stay while the other went back down the mountain to shopping in the capital.  My husband stayed with me for a few runs and then went and did his own thing for an hour or so while I continued to go on the practice runs.  In the afternoon we did a fantastic run from the very top – all on blues – I was so proud of myself and again want to thank you for all the help you have given me.
I was telling my work colleagues about the emotional lows and highs of my trip and one of them even commented that he had never heard anyone buzzing so much when coming back from a holiday.
Thanks again.
Jennie Heywood
I just wanted to let you know that I have just this minute finished my first run through of the Skiing With Confidence course. I have taken my time over it, I have done the work and you have completely blown my mind with this stuff. I already feel differently about my holiday which is in about two weeks time, normally I am very stressed by this stage. I now understand that the horrible negative chatter that goes on in my head doesn't need to happen and that I have the power to control this. I have had loads of light bulb moments which make sense to me in other aspects of my life as well ( being a 53 year old woman with lots of physical and mental changes going on!!!)
I will continue to do the work and just the feeling of taking control of this fear, which has made my ski holidays so difficult for about the past 10 years, has given me so much more confidence.  I thought I could be the only person who felt this irrational fear about my skiing, it is a revelation to me that I am not alone in this and that I can do something about it and believe me I intend to ?.
Many thanks
Elaine Bell   
I just wanted to say a big "thank you" for your course.  I'm a late starter to skiing  and it's really been 2 steps forward and 1 back since then.  I married into a skiing family, and love the idea of skiing and being in the mountains, and I progressed quickly even though each trip included at least one event where I was terrified and out of my depth.  Then I crashed on hard, wind-scoured snow and tore my ACL and had a knee reconstruction 3 years ago and completely lost my nerve.  I found your course and completed it, and have just returned from a week in Niseko, Japan, where I skied with confidence!  This included standing on the top of the mountain without getting vertigo or feeling terrified of how I was going to get down.  All your prompts and tips for staying strong and focussed worked and I skied better than ever, even though the spring snow wasn't particularly inviting or easy to ski on.
Many thanks to you – and I can't say how much it means that you are an older woman offering this encouragement to me at a time when common sense might tell me I was dreaming to think I could be learning such a physically and mentally demanding skill!  I also love that your NLP skills are transferable and I will apply them in other areas of my life.
KB  (Australia)
Thank you so much.  I have just returned from my best ski trip ever in the Italian Dolomites.  We had good weather and fantastic snow but best of all I had more skiing confidence than I have ever had.  I skied six full days, something I have not done for a long time, including three days touring with our courier/guide.  I tackled high, steep red runs which I would not have considered before, or have stood petrified at the side.  My friends said I skied with fluid, rhythmic turns like never before and my previously sceptical husband said the improvement in my skiing was unbelievable and I was skiing better than he had ever seen in 30 years! 
My fear has not totally gone away yet but I have learned to manage and suppress it and I will look forward to next season to do the course again and build on this year's improvement to get even better.
Last week I completed my aim of skiing the Sella Ronda, with enjoyment, on the second day (photo attached) and on the last day skied the "HiddenValley" with our guide, something which I would never have considered before.  Thank you so much.
Kathy Wallen ~ Restored 'Proper' Skier
We had a fantastic holiday, and what a difference!  The first few days I skied really well and confidently, and further than I've ever skied before.  Even shocked my husband, he decided to ski a bit faster, so he could rest whilst I caught up with him, we were both shocked when I kept up with him.
I had a couple of days were I didn't feel so confident, but the big difference was, I didn't once think 'I can't do this'.  My skiing may not have been pretty (quite a bit of snow ploughing) on those days, but I still skied everywhere I planned to, including a few slopes I hadn't skied before.
On the next to last day I had a private lesson with an instructor I'd had before, after 2 hours, I was back to parallel skiing, and skied the steepest slope I have ever been down.  He was very patient, and understood, left & right mean very little to me when skiing!
During the holiday we had loads of snow, and for the first time I skied in powder which came up to my knees, slopes which looked like moguls, in a blizzard and a white out.  I'm normally a bit of a fair weather skier. At times it was hard work, but we just laughed and carried on.
During daily de-brief, in the bar, we had 'me-me' time.  It became a running joke, with just one look at my husband he'd say 'didn't you do well'.
Thank you so much.
Jane S
That was the best week of skiing I have ever had!  After Monday's cracking start and some good momentum on Tuesday, we then hit Wednesday.   I had an early morning case of Too Tight Boots – normally a cue for me to run back the chalet and take the day off. But I persisted – telling myself that the boots hadn't changed, nor had the socks, nor had my feet, it was just my attitude. Lo and behold, a full day of skiing, 35km and a 74km/hr top speed (yikes!).
Plenty of Yee Ha moments, and a lot of surprised faces amongst the group as they saw me skiing with an attitude that they'd definitely never seen before.
Thank you thank you thank you thank you and thank you!!!!!!
Lizzie Boyle ~ Confident Skier 🙂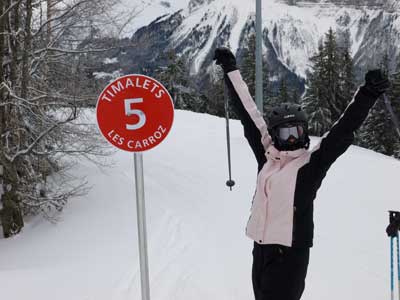 Thank you for your encouraging email, and your amazing help! I had a fantastic 3 days – achieving more than I would ever have imagined! I remembered everything you'd said, and not only did I enjoy it, I also experienced the massive achievement of skiing down red runs!! I've attached a photo of me, on a complete high, on Timalets – a run I was always told was too difficult for me!! Who'd have thought…!
Thank you so very much, I shall keep your book for my next trip.
Very best wishes,
Caroline Campbell
I just wanted to let you know how I got on after listening to your download on holiday. We have just got back and I had the best time skiing this time. I played the download daily and it helped me enormously. I even suggested to my eleven year old son to go on a red run with me!
Thank you very much Kay.
Carmel Merrick
 "Your method really works!  It seems so simple that I didn't see how it could work. Yet, it did.  We had wonderful, full days of skiing without any time lost due to me being frightened or upset.  Thank you so much!"
Dr Diane Wirz,  Neurologist, Connecticut , USA
 "Just finished lunch after a fabulous days skiing… blues and reds… I'm in control of the slope – style can come later, but you really made a difference – thank you Kay !!"
Andy B
 "I can't thank you enough. Page 1 of your book describing being gripped with fear was a typical scenario on many skiing trips.  After reading Kay's book and listening to the relaxation download I actually enjoyed every day of my recent ski trip and amazed my friends by joining them on red slopes, opening up a whole new experience.  I would recommend anyone with a fear to try this – it works!"
Angela Gray
 "I have returned from my skiing trip.  I had a great time and skied really well in fact I did a run which previously I have taken my skis off and walked  !!!!!  I did a lot of singing much to the horror of those in my party as my singing voice is not the best and  have come home feeling very positive and looking forward to going again, normally I come home disappointed, cross with myself and apprehensive about going again.   This year I hadn't skied for 2 years.  My sister lives in Bulgaria near Borovets so we usually ski once a year with them.  She thought I had had skiing lessons since my last trip as my skiing had improved so much.  Thank you!"
Lynn Ellis
 "I just wanted to drop you a line to thank you for your fantastic 'Skiing with Confidence' e-book.
I started skiing in 2011 (age 30+) and instantly fell in love with it.  Having made good progress initially, I felt that I'd hit a bit of a wall, and even one-to-one lessons weren't delivering the improvement I was looking for.  I read your tips before my holiday this year and they really did make all the difference.  I can honestly say I experienced pure joy tackling red, and even a few black, slopes – all the while remembering to BREATHE!
For me it was the simplicity of your tips that made them so valuable – they were easy to remember and apply.  There is so often a temptation to over-complicate things in life, so I applaud you for not going down that route!
I'm already counting down the months to next season!  Will definitely be re-reading the tips before I head to the mountains, and I will wholeheartedly recommend the e-book to other tentative skiers I know.
I have also found myself unexpectedly applying your techniques in other areas of my life, which has been a great bonus. Thank you so much!"
C B