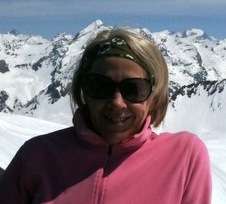 Kay Gill is a highly skilled, qualified Personal and Business Success Coach, Neuro Linguistic Programming Practitioner (NLP), creator of Red Shoes Coaching and rehabilitated fearful (actually scared s**tless) skier.
Kay's two great passions in life are people and skiing.
Having learnt to ski against all odds at the age of 35, Kay spent the first ten years of her skiing life being terrified when out on the hill.  Her knowledge and technical ability was far outweighed by her irrational fears and lack of confidence.  She spent thousands of pounds and many many hours on lessons, courses and equipment looking for the external 'magic pill' that would transform her skiing.  Only when she started on a parallel journey of personal development did she realise that confidence and overcoming fear was an inside job!
Eventually using her new found knowledge of human psychology and NLP, Kay developed her own strategies to overcome her crippling fear and fell even more deeply in love with the sport and the mountain environment, even managing to gain a qualification to teach on the local Sheffield Dry Ski Slope, where she helped set up the Sheffield Sharks Children's Ski Club.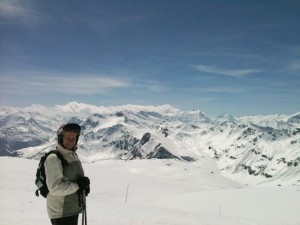 Now, combining her coaching and NLP skills with her love of skiing, Kay is on a mission to help others who are held back by fear and lack of confidence on the slopes to free themselves like she did.  Kay says "I am passionate about sharing what I learned and empowering people to get out there on the hill and get pleasure from the skiing they've paid hard earned money to do.   As I ride the lifts and see all those tense, fearful skiers down below I want to shout to them my message – that it's OK, they can change and that change is so much easier than they think! "